Follow your heart and contact me now to receive your FREE 15 minute consultation/trail lesson online.
Not quite sure yet? No worries, just keep reading.
---
Who is Thomas Gunther?
Of course you are curious about your future teacher. I would be too!
Below are a bunch of links you can follow to find out what ever you want to know about me (with the exception of my medical and financial records of course 🤪).
My "Teaching Is Learning" Revelation
Still not convinced I am your guy?
Is it perhaps because someone told you that not every experienced performer is necessarily a great instructor?
That's at least what I thought when I was still a greenhorn.
THEN THIS HAPPENED:
When I was 15 years young an up-and-coming jazz pedagogy genius named Jamey Aebersold (who has become a millionaire by producing jazz play-along records and educational books) told me something very valuable:
"TEACHING IS LEARNING; SO GO OUT THERE AND START TEACHING".
Although I didn't really understand why this would be so, I decided to follow his advice and started teaching private lessons shortly thereafter. Today I can say confidently that he was absolutely right!
I really learn a lot from teaching, and apparently so do many of my students as you can read in my STUDENTS TESTIMONIALS section further down on this page.
Still not convinced you want to take lessons with me. Ok. Hang in there.
---
Education
I hold a masters degree in teaching and performing jazz and popular music from State University of Stuttgart/Germany for Music and the performing Arts, with emphasize on piano and electronic keyboards.
I have had the privilege of taking lessons with fantastic musicians and educators, such as Jamey Aebersold, Bill Dobbins, and Chuchito Valdes, to name a few. Nothing beats sitting right next to guys like this. I also participated in many workshops when I was still a teenager. Of course I also studied a ton of music books, training videos, and online articles. And then there are the many recordings I transcribed. Maybe the best education I received was from performing with phenomenal musicians throughout my career. They really show you the way.
---
My Teaching Experience
Professor of Music at Columbia College Chicago
Courses I taught or presently teach at Columbia College Chicago include Pop/Jazz Keyboard, Contemporary Keyboard Styles, Pop-Jazz Arranging & Production, Pop-Jazz Theory, Applied Music Productions, Arranging & Orchestration.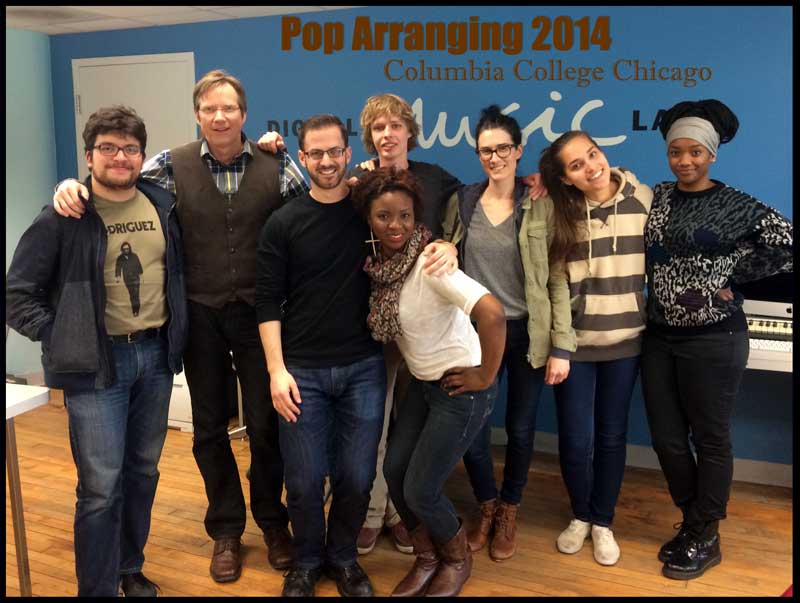 My 2014 Pop Arranging Class at CCC
Columbia College Chicago has a fantastic music program for students interested in contemporary music genre like jazz and pop. Our Contemporary Urban Music Program (CUP) has been rated to be among the 6 best of its kind in the USA. I am proud I played a strong roll in developing the curriculum and designing courses such as Pop-Jazz Arranging & Production, Pop-Jazz Keyboards, Technology for Musicians, and Pop-Jazz Theory.
Other teaching activities
Besides teaching private lessons for PopJazzKeys.com, I teach keyboard group and single lessons at the German International School Chicago. It's my way of contributing to the German community in Chicago, what has been my home for many years. After all I was born and raised in Tübingen/Germany.
Much of my time goes towards the development of video tutorials and articles for PopJazzKeys.com and MusicTrainingOnline.com.
Besides keyboard lessons, I can also teach you the following:
Music Notation & Arranging lessons
Recording & Music Production with Logic Pro
---
Student Testimonials
I think the best way to learn about an instructor is to have his students talk about their experiences with him. So here are a few testimonials from students in have taught in the last 5 years.
Ready to take some keyboard lessons with me now?
Remember, by contacting me you commit to nothing yet. But you take a really important step towards learning a ton of stuff that will kick your keyboard playing in overdrive in no time.